Thank you for visiting the tarock.net card store!
Ordering Schafkopf cards is secure and easy. We ship your cards the next business day!
Cards for sale on this page have German suits of acorns (Eichel), leaves (Graß or Grün), hearts (Herz or Rot) and bells (Schellen).
Play with authentic suited cards!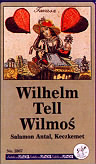 Piatnik Wilhelm Tell Wilmos Nr. 2867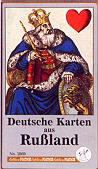 Deutsche Karten aus RuBland Nr. 2869 (Large Pips are easy on the eyes)
100mm x 68mm in decorative box (box cover shown above)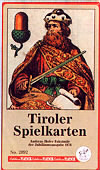 Tiroler Spielkarten Nr. 2892 (Excellent reproduction of 1878 Andreas Hofer deck)
96mm x 55mm in decorative box (box cover shown above)