Thank you for visiting the tarock.net card store!
Ordering cards is secure and easy. We ship your cards the next business day!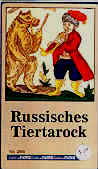 Piatnik Russisches Tiertarock Nr. 2868 109 x 57 mm back design of deck
(Sometimes called "Animal Tarock" as the tarocks have pictures of animals on them. This deck is a 78 card deck with Roman Numerals (XX, XXI, etc.) on the tarocks. It can be used for 54-card tarock games.)
We are sorry, this deck is temporarily out of stock.